HOKKAN HOLDINGS
Who we are

We have been
committed to the
environment
for more than 100
years
HOKKAN Group started by producing canned food, the most-advanced form of food in those days, and went on to manufacture beverage cans, PET bottles, and into business fields other than food and beverages. We have also expanded our market from domestic to overseas. Throughout a history spanning over 100 years from the Taisho era to today, we have continuously responded to people's needs and environmental concerns in line with the times but maintained the same passion and sincere attitude to manufacturing since our early days.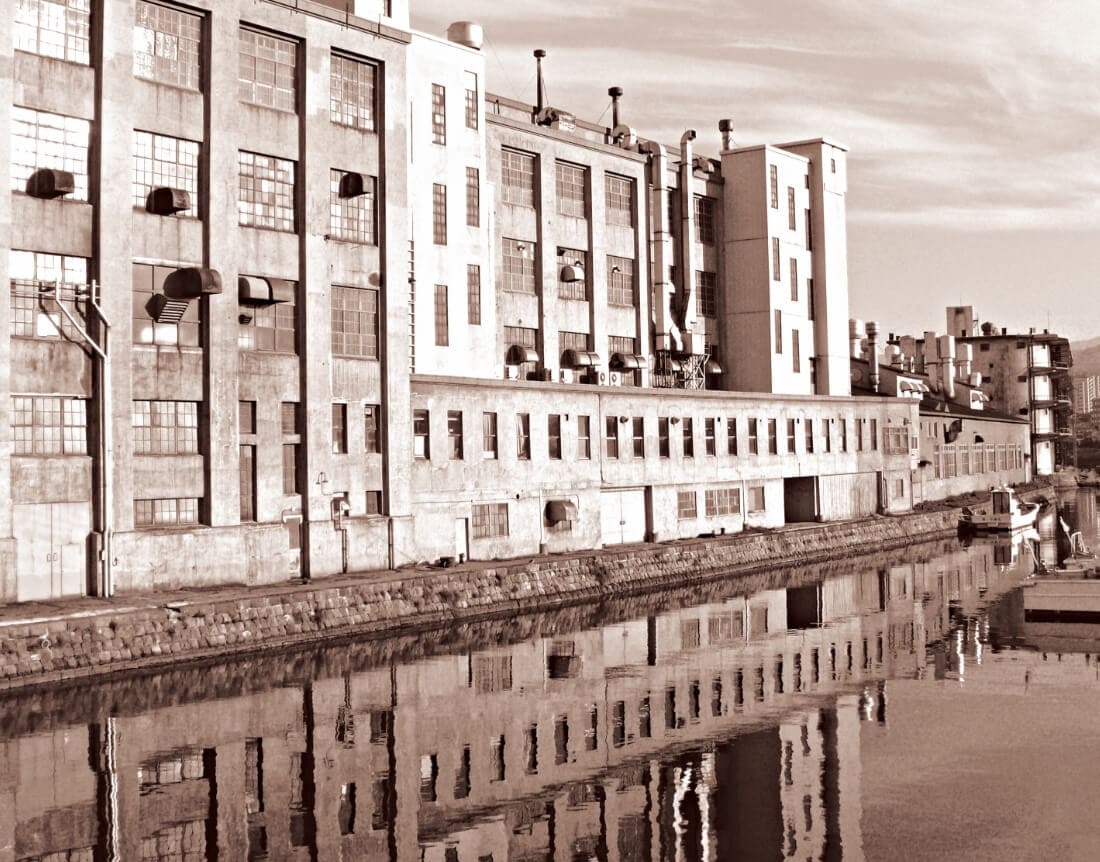 The roots of HOKKAN HOLDINGS
Our roots, HOKKAI CAN WAREHOUSE was born in the City of Otaru, Hokkaido in 1921. The company became a driving force to spread a new form of food—canned food—in Japan. In 1971, the year we celebrated our 50th anniversary, we decided to embark on the manufacture of beverage cans. It was a huge bet. Hundreds of employees moved from Hokkaido to the Kanto Region. Thereafter, we have continued to grow and enrich people's lives, establishing NIHON CANPACK and OS MACHINERY. With our technology and expertise accumulated over the years, we will step forward to the next stage, out to the global markets.
FEATURE
Contributing to the world with Japanese
manufacturing prowess

Consistent service from manufacturing to filling
HOKKAN Group is capable of offering a consistent one-stop service from container development to manufacture and filling. With our sales team adept at understanding the precise needs of individual customers, production system that can quickly respond to demand and reduce cost at the same time, and technology development team capable of making unique proposals, we are well positioned to support our customers to do what they want to do, all the way through from scratch to delivery.
We believe that the true potential of manufacturing can be unlocked by leveraging the strengths of each Group company and achieving synergy.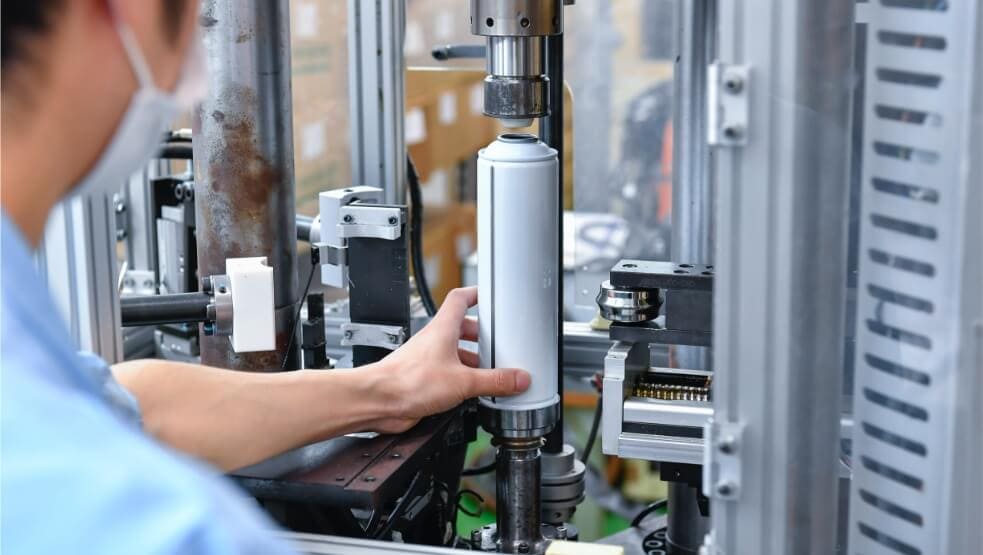 HOKKAN Group's manufacturing
prowess makes its way into the
global market
The Group's strengths lie in our technological prowess to
develop products that meet customer needs and requests, our
excellence in filling capabilities combining quality, speed, and
processing capacity, and advanced machine design capability to
support the other two.
The ability to propose creative solutions to meet customer needs
and environmental concerns is our manufacturing prowess.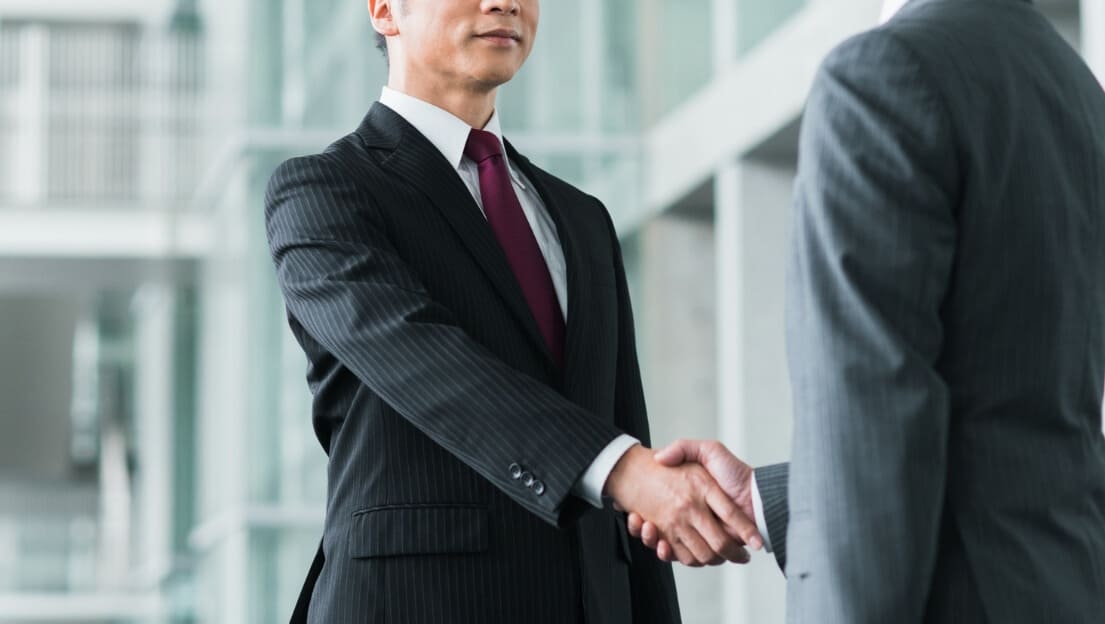 Flexibility to propose solutions to
meet diverse needs
We can quickly respond to irregular situations including difficult
delivery deadlines and challenging product development.
It is the feature of HOKKAN Group that we can find a concrete
solution and develop a product that complies with customer
requests by collaborating and bringing together the strengths of
each Group company.
That's one of the reasons why we are the customers' choice;
because we have the flexibility to propose solutions to meet
diverse needs, backed by solid technology.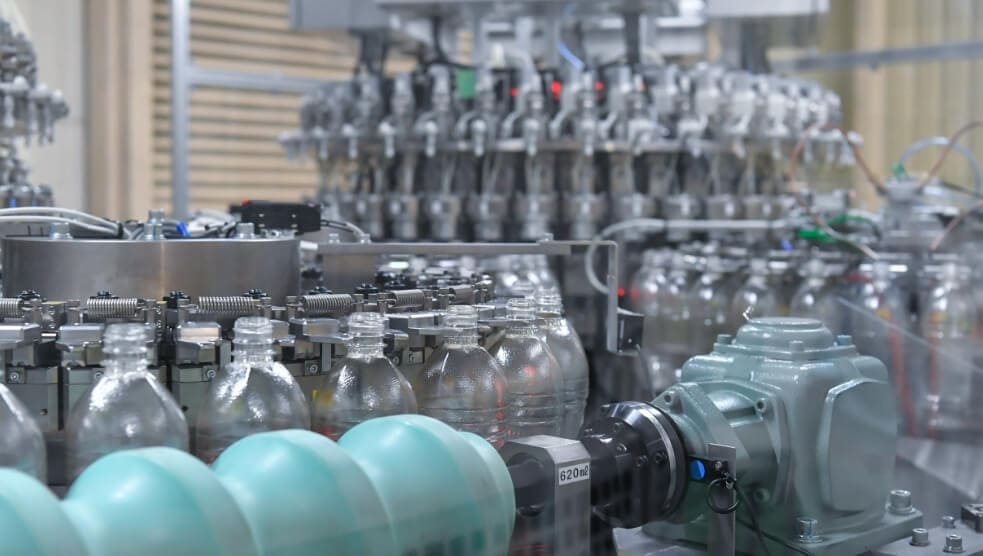 Reliable quality × production
capacity
Reliable product quality and adequate production system that
can reduce cost are essential in today's advanced food product
and container industry.
True manufacturing capability to meet user expectation cannot
be realized unless these two are combined.
It is HOKKAN Group's strength that we can be counted on for
both "reliable quality and production capacity."
STOCK
Shareholder return and dividends
We offer shareholder benefits to express our appreciation to shareholders for their daily support and to have them deepen understanding about our business. We send a box of canned food and beverages (contained in the cans we manufacture) once a year, as described below, to shareholders registered on the shareholder list as of March 31st every year. We adopt a balanced dividend policy to maximize profit return to shareholders while taking into account the need to enhance internal reserves for realizing our growth strategy and increased financial health, from the viewpoint of increasing mid-to long-term shareholder value.
Number of shares held
Description of shareholder benefit
100〜999
Assorted canned food and beverages worth 3,000 yen
1,000〜1,999
Assorted canned food and beverages worth 6,000 yen
2,000 or more
Assorted canned food and beverages worth 8,000 yen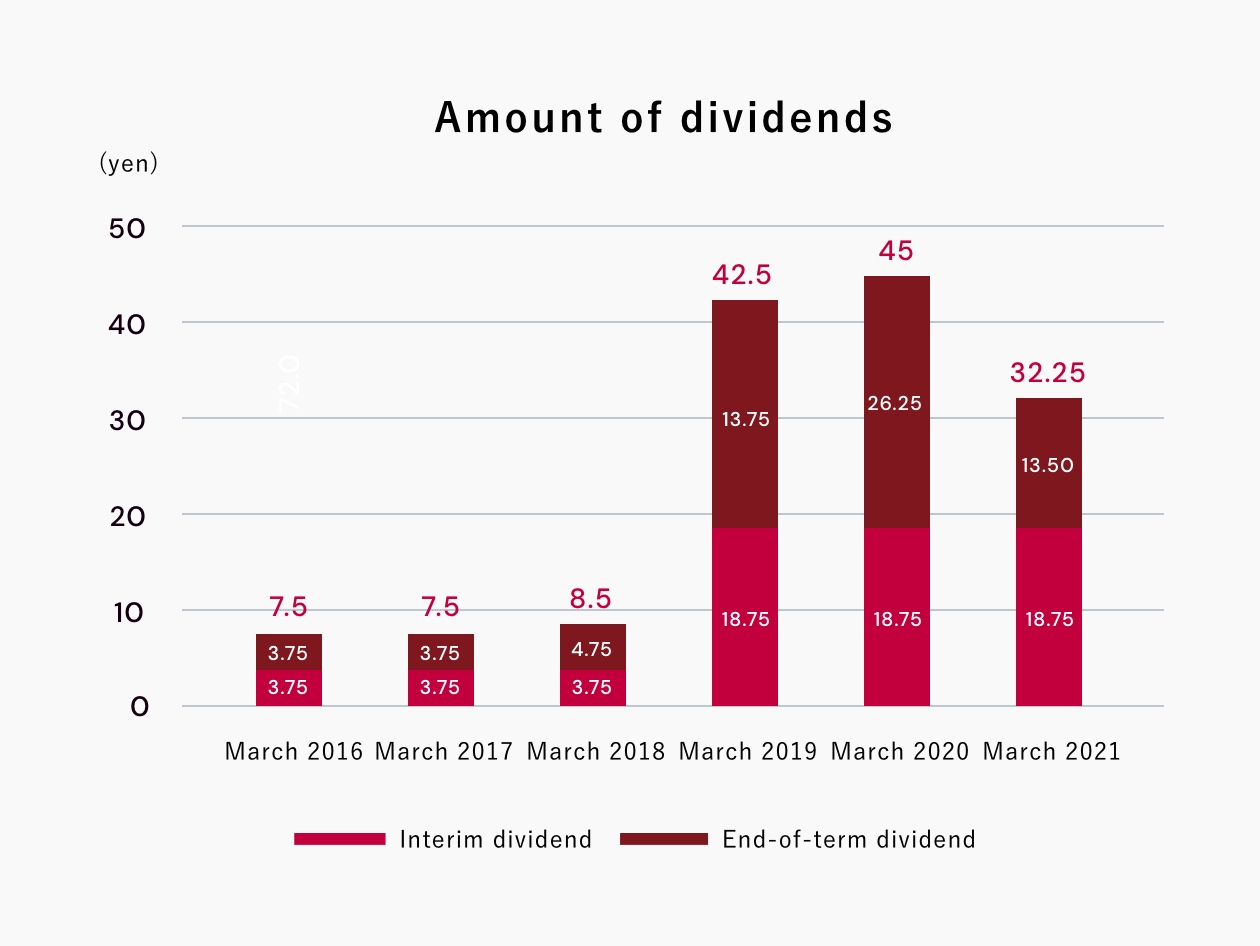 ※ The Company implemented a share consolidation effective as of
October 1, 2018, at a ratio of one share for every five common shares.
The annual dividend per share for the period ending March 2019 was
42.50 yen, taking the share consolidation into account.